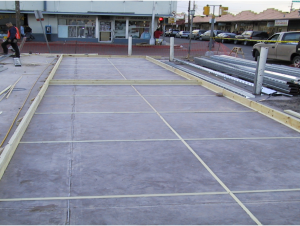 FirstUp Advantages
Insulation ready tilt up walls Significantly faster erection time Over 5,000,000 Sq. Feet Currently erected in USA.
FirstUp Advantages FirstUp offers a significant competitive advantage when constructing an aesthetically pleasing yet solid and energy efficient building. Our versatile composite system provides significant time, money and energy saving advantages over conventional tilt-up wall systems or CMU walls.
The FirstUp building system uses less concrete, hence reducing the carbon footprint. Our patented system uses embedded metal studs, creating stronger walls that go up faster (24-48 hours from pouring) providing an insulated composite wall system, while easily allowing the installation of fenestration elements.
When our walls are in place, the exterior is identical to traditional tilt up and the interior is ready for insulation and interior finish. No additional framing is needed to finish the interior. FirstUp construction efficiency continues with smaller foundation requirements (no spread footings or concrete pour strips are needed) only a simple turn-down monolithic slab. This system also reduces or eliminates welding because the panels bolt together and bolt down to the slab using a proven bottom plate attachment system. These savings continue with smaller more efficient erecting cranes, resulting in erection times that are up to 40%-60% faster than other systems.
Over 5 million square feet of warehouse, office buildings and retail projects have been constructed with this proven, yet novel technology. This technology was used to build facilities that were tested to meet and exceed military specifications. We also have a building that was actually built on the San Andreas Fault and has been subjected to two earthquakes, with no damage. Our composite building system has far superior R-Value performance then other systems.
FirstUP Efficiencies:
• 66% less Concrete Than Traditional Tilt • Less Form Material • Less Reinforcing Steel & Hardware • Dead Load – Foundation Costs are Reduced • Lighter Crane • Interior Drywall Framing – done as part of the BFS wall • Accelerate Subcontractors performance • Construction Frames are Compressed • Interim Financing – is reduced • Forming, Reinforcing, Labor is Reduced • Reduced Lifting, Setting and, Bracing Costs